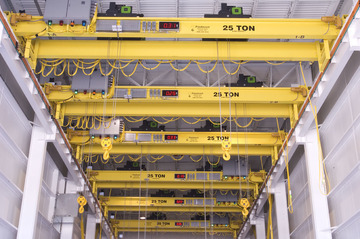 The Hoist & Crane Experts
In an effort to improve your website experience and to better inform you about Piedmont Hoist & Crane, we are in the process of updating our website which will be complete soon. You are viewing our beta version and may experience some problems or inconsistencies in navigation and/or content. We apologize for the inconvenience in advance.
Piedmont Hoist and Crane manufactures overhead cranes and crane components in a recently expanded modern plant centrally located in Colfax, NC. Our engineers and design team use state-of-the-art 3D modeling software (SOLIDWORKS) and computer equipment. Piedmont Hoist & Crane is an active member of CMAA and builds bridge cranes in strict accordance with CMAA Specifications 70 and 74. We manufacture box girders, fixed and rotating axle end trucks, pre and custom Built-up engineered hoist trolleys.